MagnumSpike! Results in Safe Successful Stops
Magnum Spike™ is the leading tire deflation device (TDD) that has been saving lives across the U.S. and around the world. MagnumSpike!™ stops fleeing vehicles. The Military, Law Enforcement Departments, and Homeland Security Agencies rely upon the MagnumSpike!™ tire deflation device for 100% safe, swift and successful stops.
The unique, non-clogging tire spike design of the MagnumSpike!™ allows for controlled and quick tire deflations 100% of the time. Every Hit is a Successful Stop. Because of its unparalleled 100% safety record from day one, the Department of Homeland Security issued a Certificate of Conformance to Phoenix International for the MagnumSpike!™ tire deflation device as an "Approved Product for Homeland Security". The certificate is issued under the Support Anti-terrorism by Fostering Effective Technologies Act of 2002 (the Safety Act).


The Industry Leader in Tire Deflation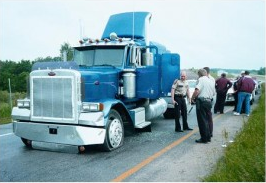 One of hundreds of trucks stopped
MagnumSpike!™ is the Ultimate tire deflation device (TDD) to safely and swiftly conclude high-speed chases, whether stopping sub-compacts or semis. MagnumSpike!™ is an exceptional value consistently safe and easy to use.
The MagnumSpike!™ provides officers, deputies and agents peace of mind to achieve tire deflation while reducing risk to citizens. Since 1986, Phoenix has done tire spike research and development giving MagnumSpike!™ a competitive edge. Its patented tire spike design creates a controlled and quick end to chases. MagnumSpike!™ offers 100% tire deflation.
Expert technical advisors are available to you to select the appropriate tire spike solution for your tire deflation needs. On this website you can learn about tire spike products for tire deflation and read and view testimonials from actual law enforcement agencies who rely upon MagnumSpike!™ tire deflation products and services.
Contact Us
To learn more about our tire spikes and tire deflation devices and why the Military and Law Enforcement from around the world make them their premier choice, we invite you to contact us via our web form, email tdd@magnumspike.com or by calling 262-784-2732 or 888-667-9494 today!