Comparison of Tire Spikes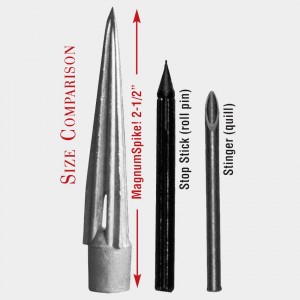 The MagnumSpike! is the ultimate weapon against high-speed chases & interdictions and has been serving Law Enforcement, Department of Defense & Homeland Security.
When officer safety is your number one priority – you owe it to yourself to compare the clear advantages that the patented MagnumSpike! has to offer.
Use this comparison chart when selecting a TDD.
Feature
MagnumSpike! MS16
Stop Stick
Stinger

Deployed length

16
ft.
15
ft. (Including one extra 3 ft. section)
15.5
ft.

Dimensions in case

19″
long x 7.5′ diameter-roll
3″'
x 3″ x 36″ (trunk lid rack)

20.5
" x 17.5″ x 2.75″

Volume in case
693
cubic inches/0.40
cubic feet
1,026
cubic inches/0.59 cubic feet

987 cubic inches/0.57 cubic feet

Total weight of system
12
lbs.
8
lbs.

12
lbs.

Type of carrying case
Heavy
duty ballistic nylon zipper case
Trunk
lid fitted rack, not transferable

Plastic
hard case

Base/scissor slats material
Elastomeric
nylon proprietary alloy
Styrofoam
core wrapped in plastic

Elastomeric
nylon alloy, zytel

Spikes:


Precision Cast

Roll
Pin

Quill

(Number)

160
Magnum spikes
180
roll pins in 5 three-foot sections but since they face three ways,
there
are only 60 working quills at any one time

110 quills

(Dimensions)

2.5″
long with 3 sharp-cornered edges
1/2″ at base
2″
quill inclusive of separate tip. Body of quill is steel roll pin
0.19″ outer dia., 0.11″ inner dia.

1.75″
long x 0.14″ outer
dia., 0.11″ inner dia.

(Material)

Rustproof
metal alloy
Steel

Stainless
steel

(Shape)

Engineered,
3-cornered
elongated pyramid
Tubular
split quill, in reality a roll pin with separate conical tips

Tubular/pipe
cut at a sharp angle

(Clogging or choking)

Patented
clog-proof
design
Won't
clog
Definite
possibility of clogging
(Ability to deflate tires)

Will
deflate tires with total thickness
of tread and casing up to 2.5″
Should
deflate tires if total thickness of tread and casing is under 2″
Should
deflate
tires if total thickness of tread and casing is under 1.75″
(Ability to stop speeding vehicles with run-flat tires)

Designed
for large air escape & engineered to cut up tires. Stops all
tires,
including run-flats
Distance
between quills being 3″ reduces the
possibility of the quill lodging in the critical
side wall area of run flats
Minimal
at best
on run-flat tires
(Direction)
All
directions
Bi-directional
Bi-directional
Replacement Spikes
50
spikes with 50 holder retainers, stainless hardware & 50
protective
caps
Not
applicable
10 quills with
compression sleeves, tip guards,
and special tool
Deployment rope or cord
45
ft. of 150 lb. test nylon cord on reel with
press button release & quick rewind
80
ft. of polyester cord on open reel
30
ft. of rope
on an open spool
Assembly/disassembly
No
tools required to replace or switch spikes around
Two
or more sticks destroyed at every hit
Philips
screwdriver required
Multiple use ability
Will withstand multiple high
speed impacts
Destroyed
first time it is run over
Capable of
withstanding multiple high speed
impacts
Ability to replace
or switch spikes in the field
No
tools required to replace or switch spikes
around
No
possibility of replacing spikes
Needs
special
tool to replace spikes